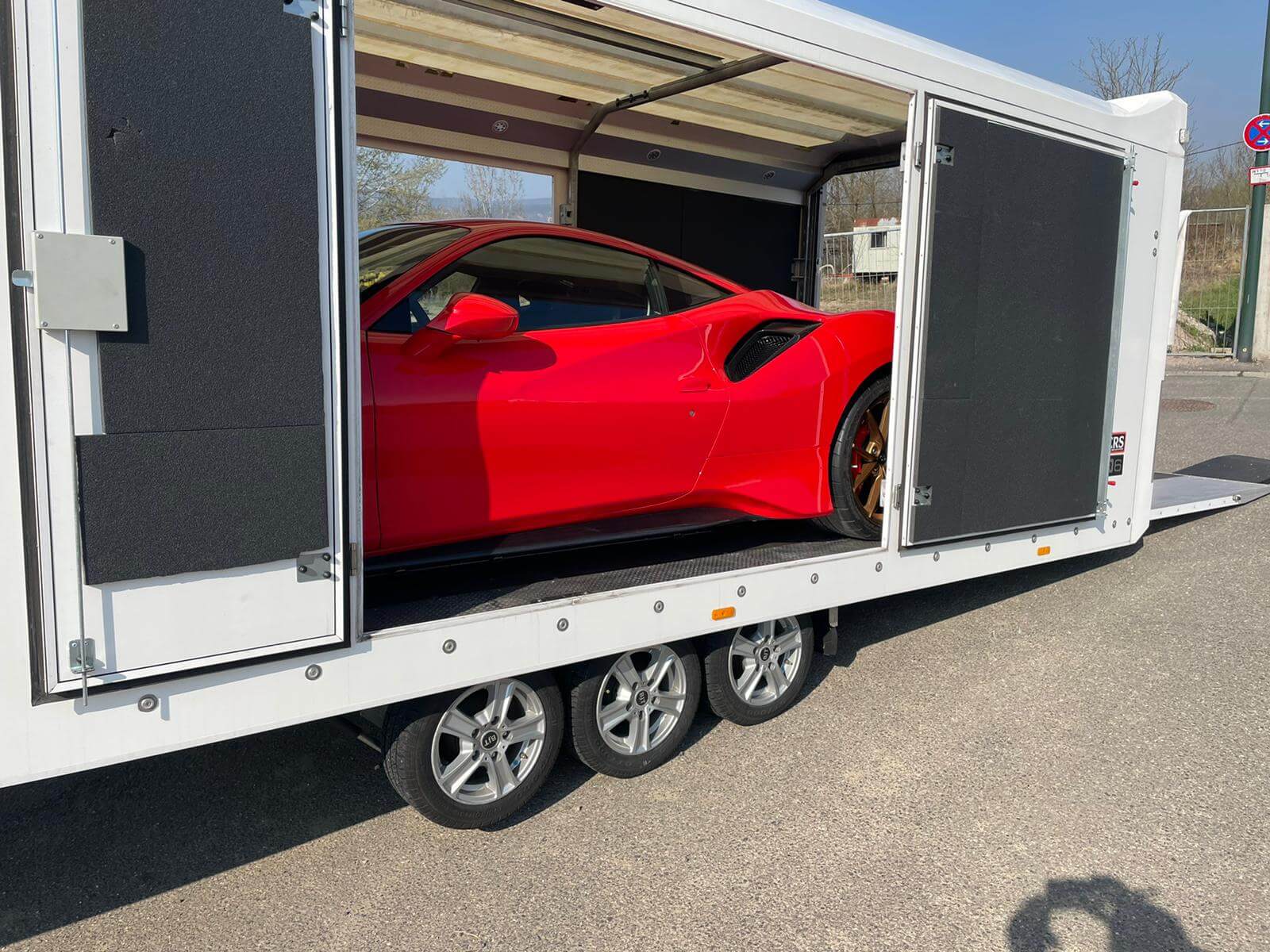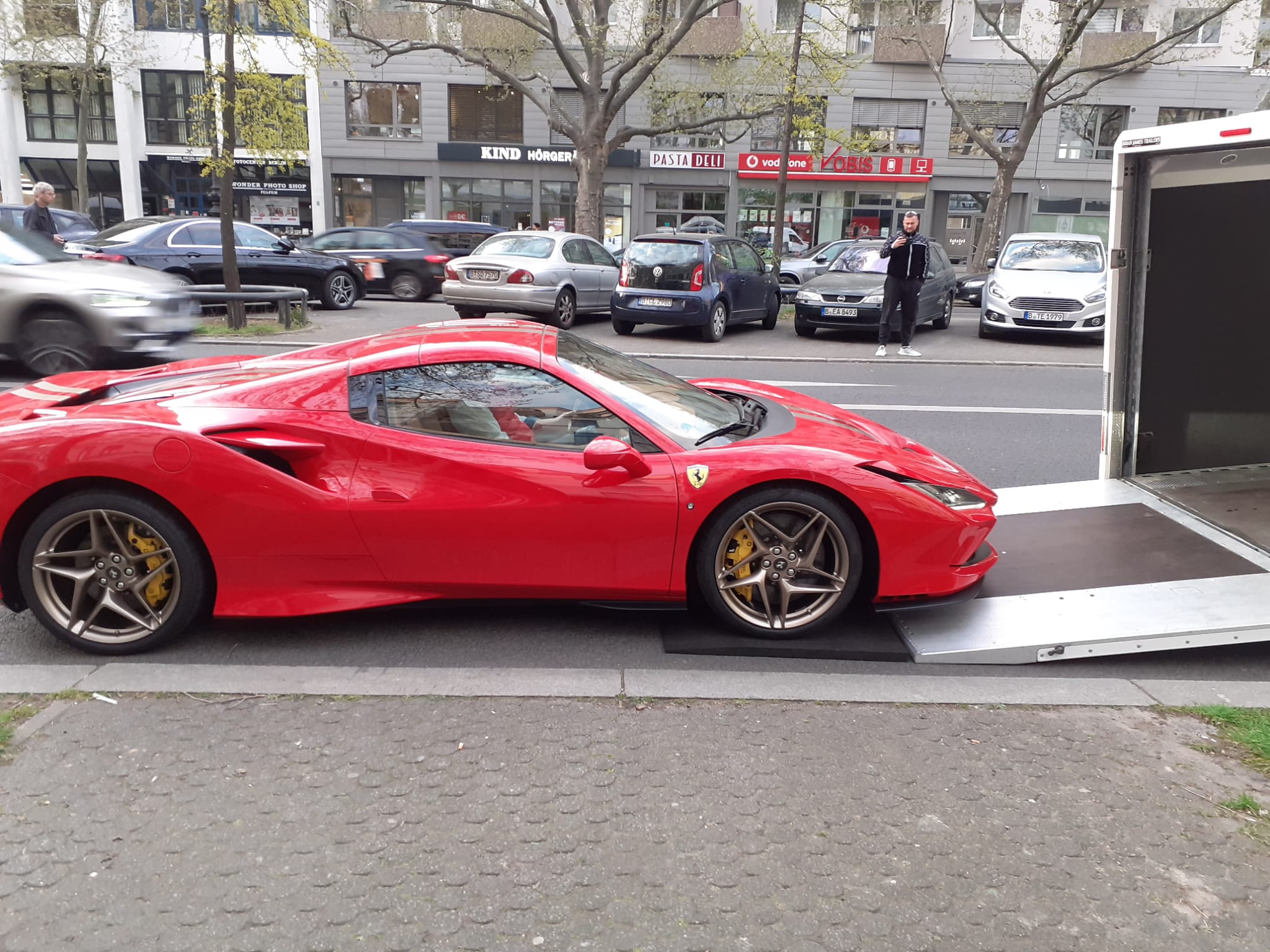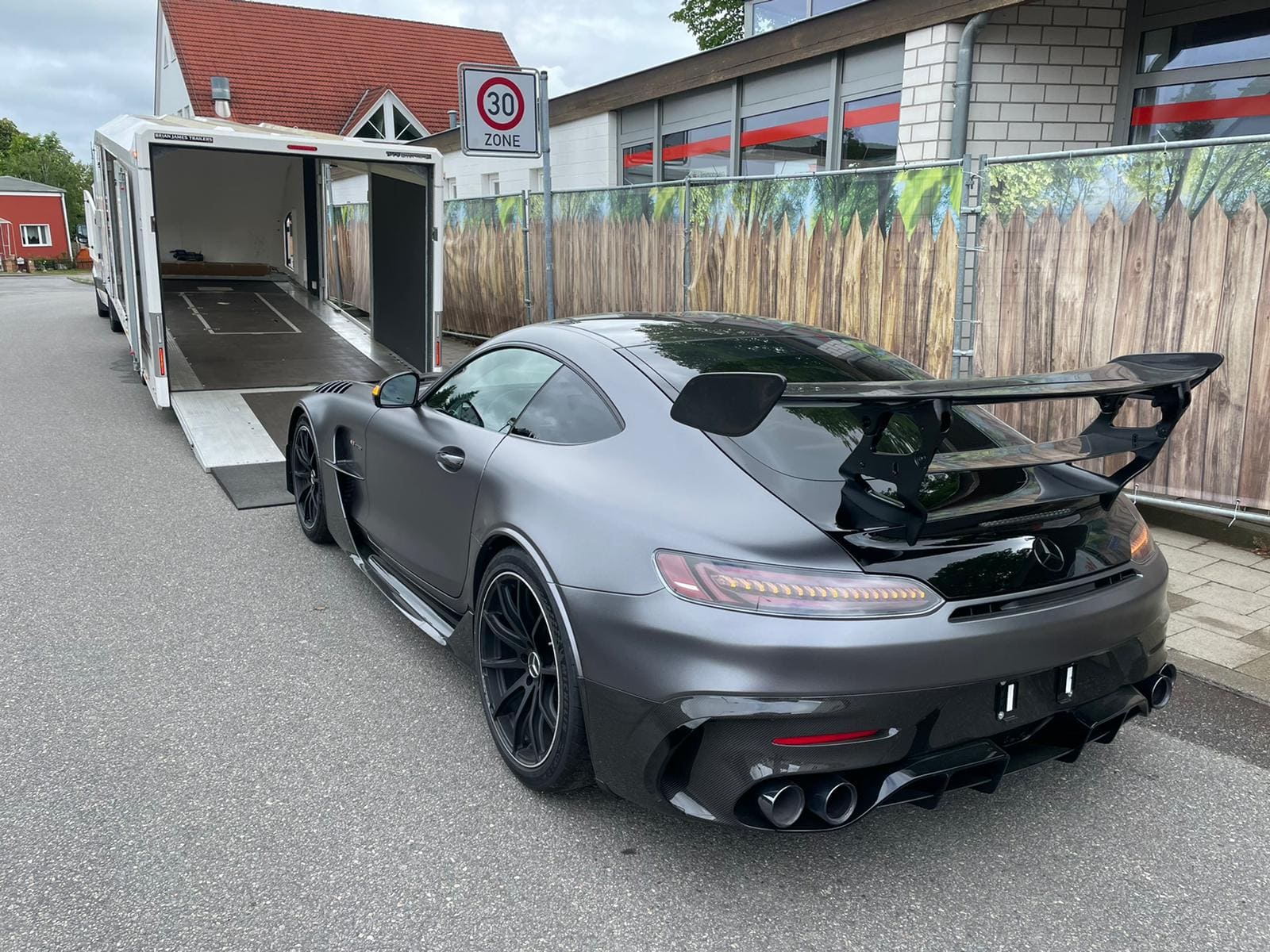 Would you like to have your valuable sports car taken to the workshop and be sure that nothing will happen to it?
We transport your sports car across Europe in our enclosed car transport trailer.
Quick reaction times
We are available at short notice and can be at the pick-up location throughout Germany within 12 hours. Europe-wide within 48 hours.
Secure car transport
Our employees have been in the transport business for a long time and transport your sports car with the highest security and discretion through Germany & Europe.
Get an individual quote
Transporting vehicles
Transporting cars is one thing. Our company specialises in luxury vehicles and sports cars, which we, as a transport company based in Germany, transport throughout Europe with a great deal of know-how. Our vehicles are GPS monitored and we can control the transport routes at any time.
All our car transports are protected by a basic transport insurance. Please enquire about the insurance level before transport. Our drivers are known for their reliability and expertise in transferring new cars or vehicles for reconditioning.
Sports car transport assistance from a company based in Germany
Submit your orders to our service, gladly also by email, and we will provide you with a quote.
Whether you want to take your car to another place with a transport company of vehicle transport or you want to use other services from us like vehicle guarding as a client: We fulfil your requirements from a transport with the highest possible flexibility.
Bodies or vehicle conversions are also no problem for transporting your sports vehicle
Send us an email today and tell us about your request. We are a German-based vehicle transport company. You have a fixed contact person at all times. We work as a freight forwarder with modern car transporters and are specialists in sports car transports in Europe.
Whether you want to have a Ferrari, Lamborghini or McLaren moved with a car transport in Europe - we offer safe closed and open vehicle transport.
Our customers from all over Europe cite as factors why they repeatedly commission us with car transport a transfer of their luxury vehicle that we would be very good partners with excellent services and a functioning network for their transport request as well.
Quality in transport company
With us, you will have no trouble reaching a contact person personally. Reach out by phone +49 (0) 156 / 78405314 or email us at info@luxuswagen-transport.de.
Thanks to our group of specialists, we are also able to quickly and safely carry out transport requests of your vehicle as an order thanks to our IT solutions.
You have several car transports to carry out? Then we will also be happy to provide you with quotations. Simply get in touch with us. Fill out the contact form.
We now have many regular customers who have their sports cars transported by us again and again. Often we already know the starting points and destinations and the local peculiarities. This also makes planning better, because we know safe parking spaces and the route well, for example.
Requests are of course treated confidentially
Soon we will be able to safely handle a car transport for you with our vehicles and transport insurance. Such a vehicle transport is a matter of trust.
We bring your cars, whether sports cars or classic cars, to their destination with our service and a good offer by transport with a trained driver.
When do you need our service?
You don't want to move your luxury vehicle yourself? Send us an email and we will send you a quote. Get in touch. We have already brought a great many vehicles safely and undamaged to their destination.
You have bought a car but it is not yet registered? We will pick it up in a closed trailer and deliver your new car to your door without having driven a single kilometre ourselves.
Our expertise for your vehicle transport
F.A.Q.:
Is the transport, i.e. a car transport from a vehicle to a customer also safe?
We have a lot of experience in car transport. Our trained drivers will bring your cars safely to your desired location.
How can I reach you?
We are good to reach by email for your enquiry. If you would like to send us an email, you can easily do so here. Our e mail address for a car transport is: info@luxuswagen-transport.de.
We would be happy to count you among our customers for a car transport soon and will be happy to send you a quote after your request. Soon we will be able to be your haulage company with our trailer as a provider.
For which cases are your offers best suited?
Don't just entrust us with the transport of your sports car for a move. All of this can also make sense for you if you want to manage car transport to a trackday, to the workshop and back, for a purchase or even for a driving safety training course. In this case, the transport takes place to the desired destination and is dropped off safely there.
Such car transport is particularly suitable for luxury cars. Think, for example, of vehicle transports of all kinds for Ferrari, Lamborghini or McLaren. Our service consists above all in the safety of your sports car.
For example, if you want to take part in a driving safety training course or a trackday, you certainly don't want to drive all the way across Europe.
In this case, you travel separately from your sports car and then find your sports equipment at your destination. As we are also happy to guard your sports car until you arrive, you take no risk and can travel with peace of mind.
Vehicle transports with German quality throughout Europe
We offer reliable car transport for your vehicles and are only an email away. We transport your cars throughout Europe.
A car transport is a matter of trust
We earn this trust with the way we provide our service. First and foremost, we focus on reliability. Added to this is the availability at short notice, which we are happy to offer. Of course, it is an advantage for our planning if we can schedule the assignment with you.
However, we are also happy to be available quickly if, for example, the start of an athlete's career is at stake. If there's still a driving safety training course to be completed, we're ready and waiting to get you to the place where you can get to know the functions of your sports car even better.
Do you have any questions?
You certainly don't want to entrust your sports car to just anyone. So if you still have questions before you hire us, feel free to contact us. We will answer your questions and also advise you on how we can best proceed together.
During this conversation, we will also find out what you have in mind, where you want to start from and what the destination for your sports car is.
Then it's time to make arrangements - for which we like to plan some reserves. Because there are always circumstances on such a car transport that we have no influence over. Think of a traffic jam, a diversion or other delays such as bad weather.
In addition, we can't drive that fast and of course we don't want to take any risks. Decide on your sports car transport today. We look forward to seeing you.
Request closed car transport