Luxury car transport
We are your forwarding agent for sports cars, hypercars, luxury cars, new cars, classic cars, prototypes, event vehicles / show cars and all cars that you would like to transport anonymously and safely, protected from prying eyes. We drive for you throughout Europe.

We are your specialist for fast and individual vehicle transfers.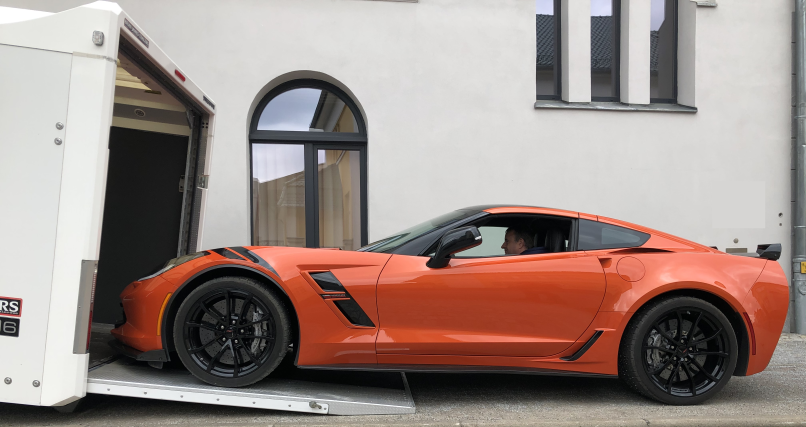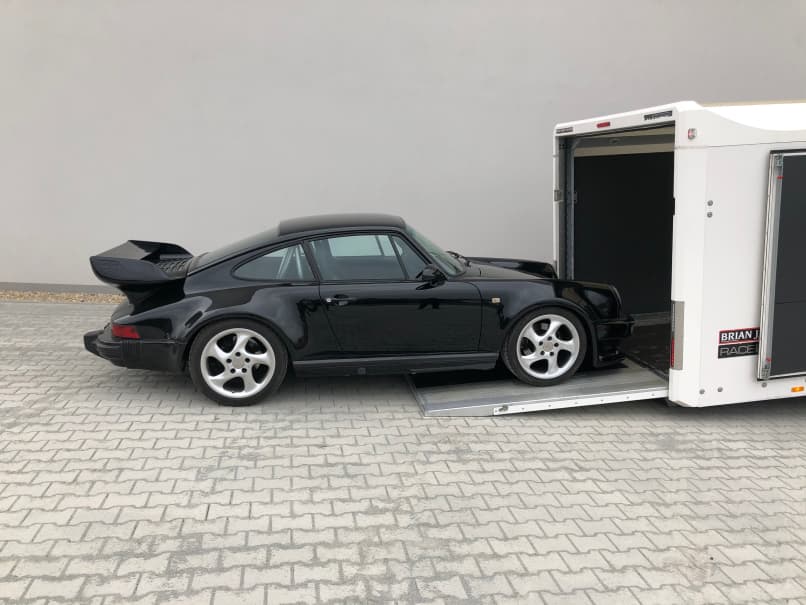 Closed car transports with the Brian James Racecar / Racing Car Transporter 6
With our enclosed special trailer, we transport your vehicle individually, cleanly and safely to its destination.
Loading dimensions:
- Length: 6.00 m
- Width: 2.20 m
- Height: 1.89 m
- Maximum load: 2,300 kg
The closed transport trailer can load the following vehicles, among others:
Aston Martin, Bugatti, Bentley, Ferrari, Koenigsegg, Lamborghini, Maserati, McLaren, Mercedes-Benz AMG, Pagani, Wiesmann, Jaguar, Tesla, Dodge, Ford Mustang, Volkswagen, Audi, Corvet, Cobra, concept cars, racing cars, motorsport vehicles and prototypes.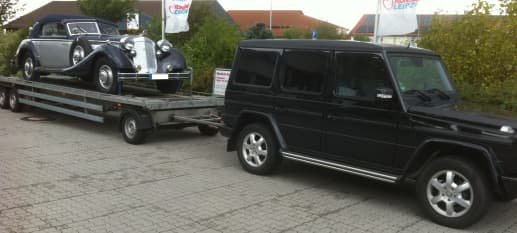 Open vehicle transport for heavy cars & SUVs
We have different open transport trailers with which we can transport heavier vehicles up to 2,700 kg.
Loading dimensions:
- Length: 6.00 m
- Width: 2.20 m
- Maximum load: 2,700 kg
The open transport trailers can load the following vehicles, among others: Rolls Royce, Maybach, Horch, Porsche Cayenne, Range Rover, Land Rover, Mercedes-Benz G-Class / ML, Dodge.
Holiday shuttles / business trips / test drives
Hand over your company car / private car at the airport and we will transport it to the destination of your choice.
Do you want to take your vehicle on a short holiday, to a film shoot or to the test track?
If you wish, we will stay on site with you and arrange the return transport directly after the end of your trip.

Would you like to have your vehicle securely set up and guarded overnight?
Let us know, we offer various additional services.
Vintage Car Rally Shuttle
We accompany you during your classic car rally. During rest periods, your vehicle will be parked safely and guarded in our trailer. Further services on request.
Transport services
In addition to the classic vehicle transport in a closed trailer, we are happy to offer you additional services & respond individually to your wishes.
Why us?
We have been in the vehicle transport business for over 25 years, including over 10 years transporting luxury cars across Germany and Europe. Our customers appreciate the personal contact and know that your vehicle is in good hands with us.
25 years of expertise
Luxuswagen Transport has been in the vehicle transport business for over 25 years. Over 10 years ago, we specialised in the transport of luxury cars.
Personal contact & discretion
We are an owner-managed company. Our clients appreciate the personal contact and discretion.
Safety
Communicate directly with the chauffeur or the owner and always know where your vehicle is at any given moment.
Portfolio
Bei uns gilt Diskretion als selbstverständlich, deshalb finden Sie angeführt nur Beispiele von durchgeführten Transporten.
Alle
enclosed transports
open transports
Supercars / Hypercar
Brand new
Classic cars
SUV
Request transport
Luxuswagen Transport
Karsten Grellert
Friesestraße 21
02681 Schirgiswalde-Kirschau
Germany
Weekend getaway & holiday with your own vehicle
You want to go to Italy, Switzerland, France or Monaco for the weekend?
We will collect your vehicle, paraglider and golf bag from you on Thursday evening. You board the plane on Friday in a relaxed atmosphere and we welcome you with your own classic car or sports car directly at the airport terminal in Milan, Geneva, Zurich, Bern, Monaco or the destination of your choice.
Enjoy the luxury of driving your own vehicle at your holiday destination and treat yourself with a relaxing trip to the mountains, the city, the local golf course or the sea.
We are your invisible companion and stay with you for the weekend
You don't want to leave your car unattended in the underground car park or multi-storey car park?
We will gladly stay at your holiday resort and watch your vehicle guarded in our closed transport trailer at night.
Return transport starts back at the hotel or airport
You are relaxed and your trip is slowly coming to an end?
Hand over your vehicle to us at the hotel or airport and we will shuttle it directly back to your garage.
Off to the race track - race weekend with free practice
You want to take your car out on a European race track once again and test your limits?
Luxuswagen Transport takes you to all German and European race tracks such as the Hockenheimring, the Nürburgring (Nordschleife), the Lausitzring, to Oschersleben, the Sachsenring, to Budapest / Hungary, to Silverstone / Great Britain, Zandvoort / Netherlands, Austria, Switzerland, France and Belgium.
You hand over your vehicle to us at your front door. We are also happy to take an extra set of tyres or bulky luggage for you. You drive your own vehicle or fly directly to the route.
Once you arrive at the race track, you are welcome to use the enclosed trailer as a mobile pit lane and park your racing car in it.
If you wish, your chauffeur can stay on site and assist you with changing tyres, washing the vehicle or similar. Please feel free to contact us.
At night you can park your sports car in the closed trailer and we will guard it for you.
At the end of the race weekend, we will transport your racing car back to your home.
Transporting prototypes - protected from view with security personnel
We transport your prototype to the test track or to the supplier under high security standards
We transport your new development or prototype protected from view, with security person / second driver without major stops to the supplier or to the test track.
Many manufacturers want to have their vehicle bodies, engines, components or prototypes transported exclusively and directly. We drive for you throughout Europe, whether to Sweden on the ice track or across Germany to a supplier.
We are happy to offer you additional services, such as day or night driving, a second driver for direct transit with fuel stops only, or an escort vehicle. Just get in touch with us.